A3 Gicleé PRINT of 'Manchester Rain' FREE UK SHIPPING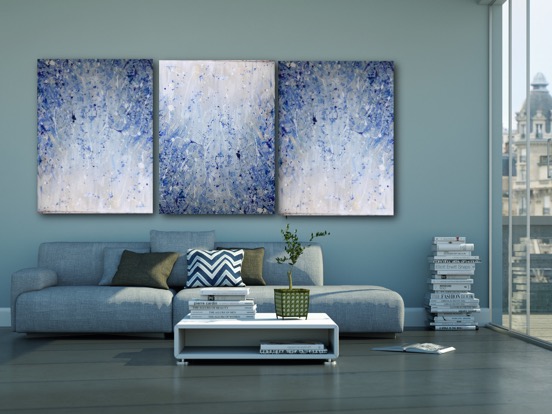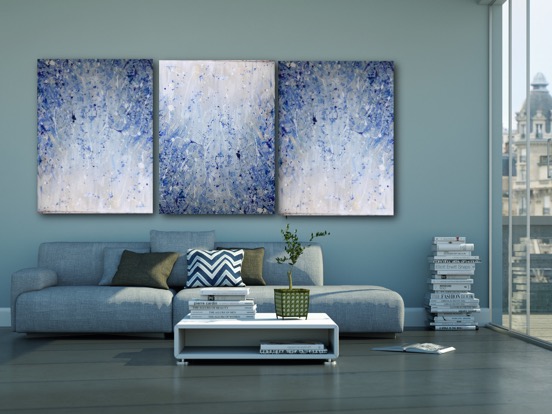 A3 Gicleé PRINT of 'Manchester Rain' FREE UK SHIPPING
Here by popular demand! 'Manchester Rain' is now available in print.
Whether you plan to hang it on it's own or would prefer to order three and arrange them as a Triptych, 'Manchester Rain' is a bold statement piece, designed to add drama to any space.
Inspired by the famous Manchester rain, this piece uses a combination of blue hues, interspersed with shimmering silver and pearl that subtly catches the light.
The piece perfectly captures the splashing and splattering of a cool, Mancunian downpour, creating a real sense of movement and energy.
Palette knife and brush creates 3D, 'textured' effect, in a spectrum of blue, white, cream, pearl and silver. This is captured beautifully in print and each brush stroke and sliver of paint can be seen up close.
This piece can also be ordered as a Triptych (3 piece), for a really striking effect. If this is something you are interested in, please take a look at 'Liverpool Glow', which was adapted especially for the reception area of Liverpool FC Headquarters. This demonstrates how the paintings can be customised to create truly unique and bespoke art installations for any space - corporate or residential!
Due to high demand, current Shipping Times are approx 3 - 4 weeks for all prints.